We know that there are other play couches out there and choosing one can be a big investment for your home. It can be overwhelming to weigh up the options, so to make things a little easier we've detailed below what makes The Possum special.
See why more Australian and New Zealand families have chosen Possum Play than any other play couch out there
The only play couch that meets international quality ratings on all 3 material components
The Possum is the only play couch on the market that meets internationally recognised quality standards for all three material components: CertiPUR-US® certified foam, STANDARD 100 by OEKO-TEX® STANDARD 100 certified fabric, and YKK® zips. These are the gold standard in international children's furniture products meaning your Possum Play Couch is the best quality available. The Possum is also tested to meet all Australian Fire and Safety standards, and Toy Safety Standards
You can be confident when you buy The Possum that it is the highest quality play couch on the market: the safest and most durable product for your family.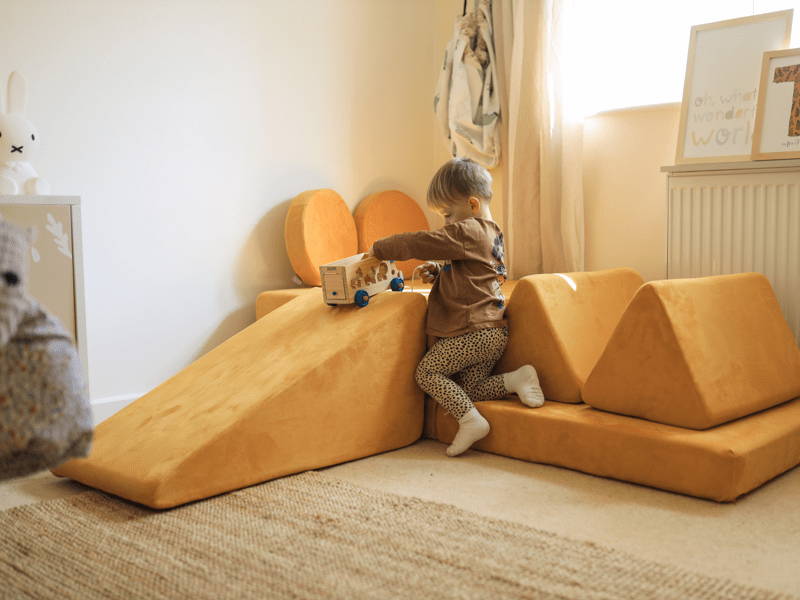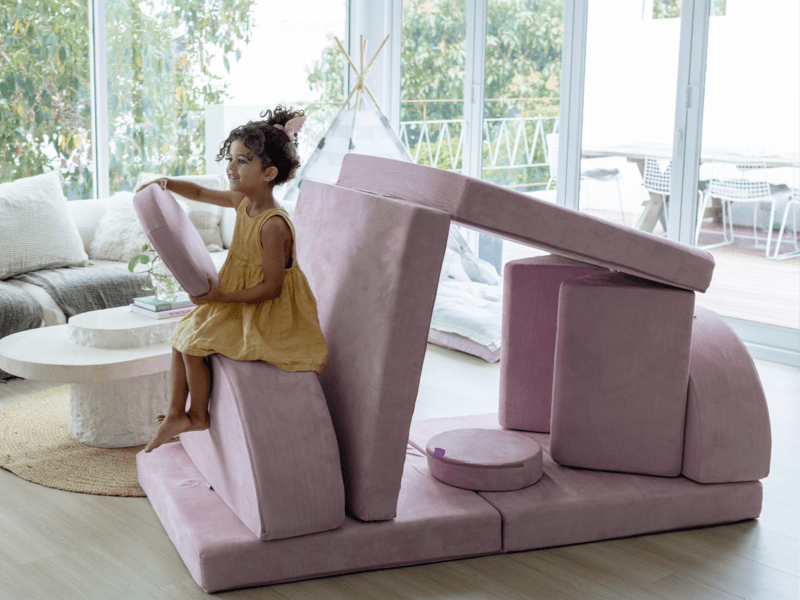 Bigger bases, sewn together
Extensive product testing helped us realise that sewn together bases (vs those that zip apart) make for much stronger builds. Size matters too! Many competitors have smaller base cushions than The Possum - many measure only 160cm wide, vs The Possum's 168cm - if your play couch is doing time as a spare bed or you want it to be suitable as your kids grow older, you'll notice the size difference!
If you have kids older than toddler years or are investing in a play couch for the long run, you'll want larger bases and stronger builds
Colours for you, fabric for kids
We're not joking when we say we've reviewed thousands of fabriccolour swatches, and agonised over 28 potential Sage Greens (who knew that was possible?!). The result? A colour pallete we believe is second to none; colours that are fun but functional and will perfectly match your decor.

Our vegan microsuede fabric has been just as carefully chosen. As well as being OEKO-TEX® certified, it's the perfect mix of soft-to-the touch but also hugely durable and stain resistant. Other brands use upholstery fabric, which can look great but is a bad match for kids who want to use their play couch for sliding and rolling on.
You want your play couch to look great, but also be made of fabric designed for play. The Possum does both!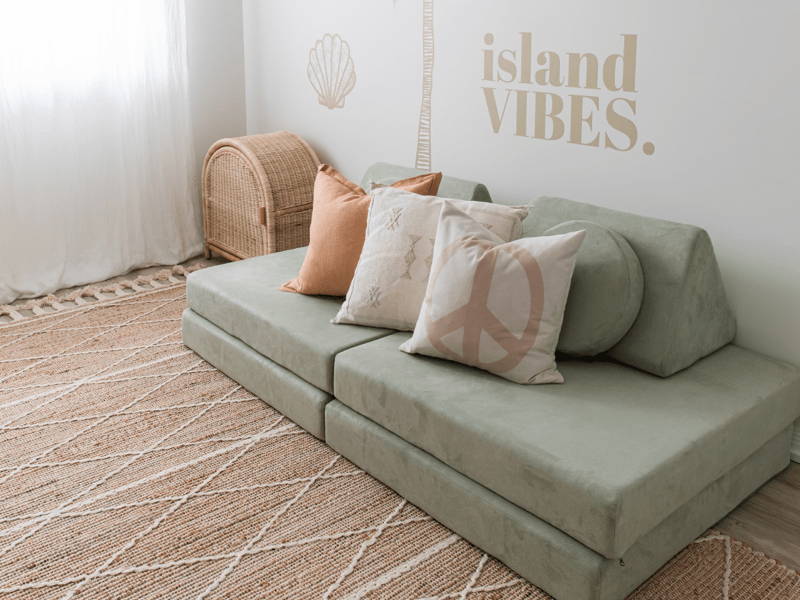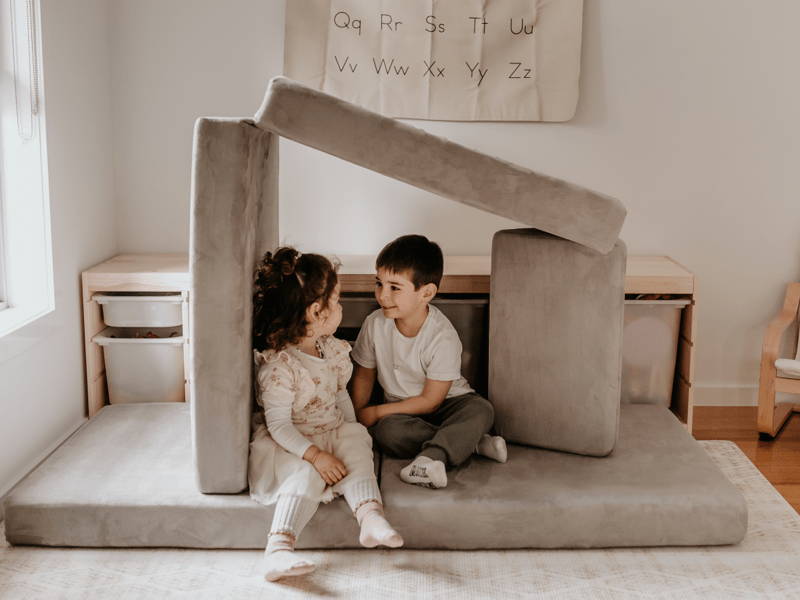 The Possum is the highest density foam play couch on the market, as well as meeting the important CertiPUR-US® certification standard. Some competitors use lower density, lower quality foam without the CertiPUR-US® certification (eg. meets only GECA standard), that is less able to stand up to the rigours of extensive use and may misshape over time. For example, if a play couch is unable to be compressed for transport it's a likely sign the foam density is on the lower side and compression would damage the foam structure. Unfortunately if a play couch's foam would be damaged by compression, it is probably not going to stand up to years of use by your kids!

The Possum's high density foam means your play couch can be used for years while holding it's shape, making it an investment for the long term.
Handy handles to make moving easier
The details matter, and handles on your play couch are one that need a mention! The Possum bases and add-on pieces all come with handles designed for little hands, to help your kids manouver, drag, and build with. If you ever need to pick up The Possum too, you'll be glad they're there! Handles help your kids build fine and gross motor skills, and without them you've got slim chances at independent play.
Handles make manourving and building hugely easier for little hands (and big ones too!)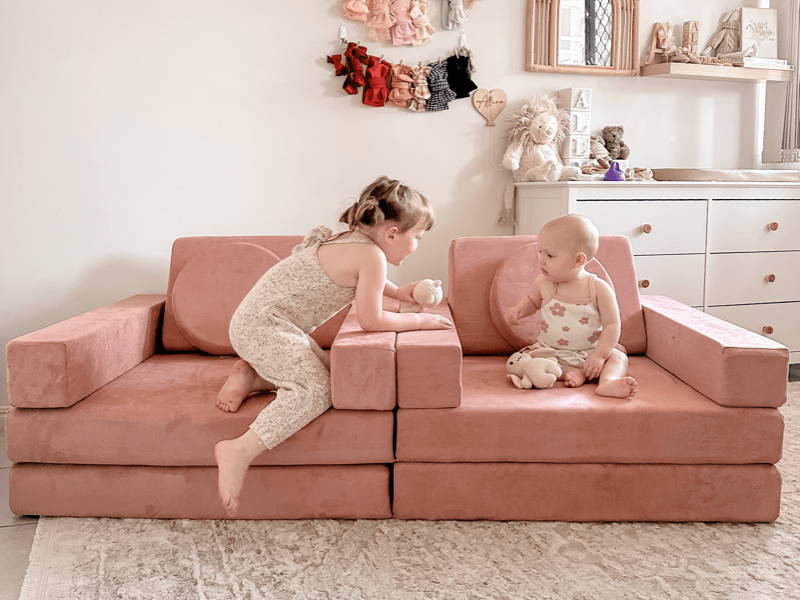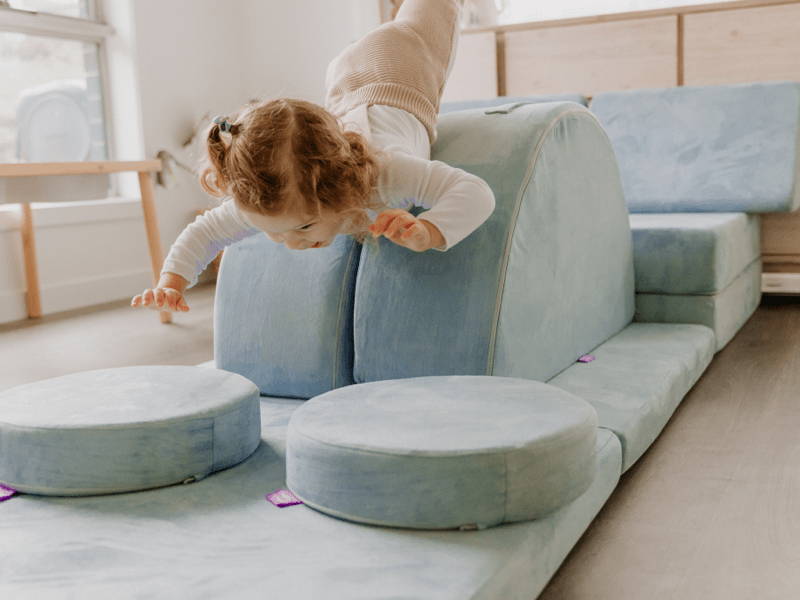 Add-on shapes to let you build your play setup over time
With Possum you can build out your play setup over time. If you don't need armrets right now, add them later, if you find our kids love sliding down The Possum bases, look at adding a Wedge Set. We have carefully tested each add-on to build out the most fun collection of play couch shapes on the market. We let you customise your play setup and build as you go.

The Possum gives you lots of options to build out your play couch setup over time, but let's you choose what to add and when.
The most loved play couch in Australia & New Zealand
Don't just take our word for it... more families have chosen The Possum than any other play couch on the market. Since launching in 2021 we're now in over 20,000 homes and counting. With thousands of 5-star reviews, we' couldn't be more proud of the joy we're bringing into Australia and New Zealand homes, and hope you'll be part of the Possum family!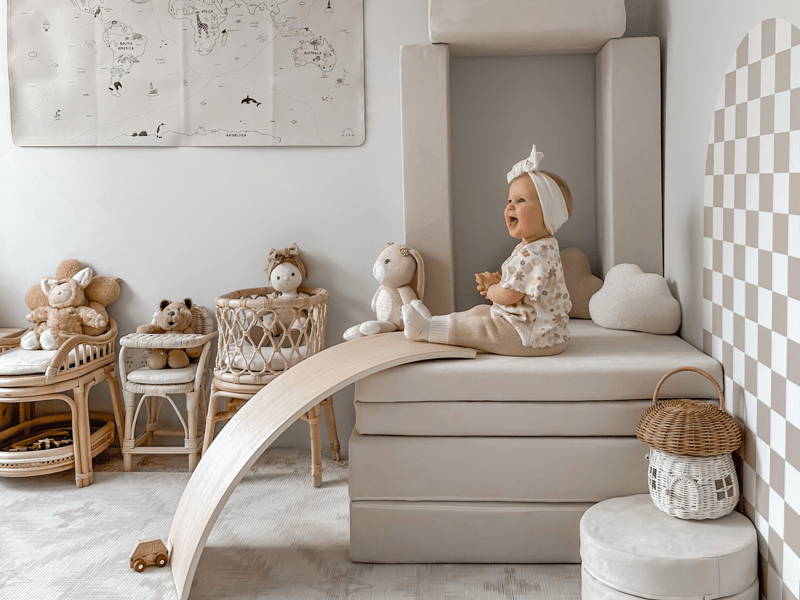 Questions? We've got answers
What is CertiPUR-US® foam and why does it matter?
CertiPUR-US® developed a foam certification program in 2008 to ensure consumers have a way of knowing what's in the foam of their upholstered furniture and mattresses. CertiPUR-US® certified foams independetly tested and confirmed to be made without formaldehyde, ozone depleters, heavy metals and flame retardants (PBDEs, TDCPP or TCEP), and promote indoor air quality through low Volatile Organic Compounds (VOC).

 

The CertiPUR-US® certification is the international gold standard ensuring safe production of foam products. With it, you can be assured your products are free of nasty chemicals and safe for the most precious members of your family to play and relax on.
What is OEKO-TEX® Standard 100 and why does it matter?
The OEKO-TEX® STANDARD 100 certification independly tests and confirms that every single element of our product has been tested for harmful substances and is free from any toxic chemicals. The OEKO-TEX® STANDARD 100 certification gives you assurance that the fabric and mateirals are made free of any substances that may be harmful to human health.
What are YKK® Zippers and why do they matter?
YKK® Zippers are widely regarded as the highest quality zippers available when tested for use and durability. The Possum's covers also come with thoughtfully designed 'zipper garages' so that when not in use, zips are tucked away to protect from scratches and snags and kept away from little fingers.
Absolutely. We provide a one-year warranty, and you are entitled to a replacement or refund for a major failure, or to have the goods repaired or replaced if the goods fail to be of acceptable quality. If you have a problem with your Possum Play Couch please contact us on hello@possumplay.com.au. Please note that these guarantees cover physical flaws and manufacturing defects, but do not cover normal wear and tear or damages caused by alterations and improper use.
Does foam compression matter?
The Possum is made from very high density foam, which means it can be compressed for transport and bounce back to shape afterwards with absolutely no damage to the cell structure of the foam!
Some competitiors use foam that is not high enough quality to be compressed and that would be damaged in the compression process. Unfortunately if a play couch foam would be damaged by compression, it is not going to stand up to years of use by your kids!
On the contrary, compressing our foam means not only that it's high enough density to withstand compression, but also that we lower our carbon footprint for delivery, and you family gets an epic unboxing experience when The Possum springs to life out of the box. In our minds, compression is a big win!
Is The Possum bigger than other play couches?
Yes! It can be hard to tell when you're just looking at a photo online, but make sure you check your play couch dimensions (you can find the dimensions of all our items on their product pages). Many competitors have smaller base cushions than The Possum - often measuring only 160cm wide, vs The Possum's 168cm. If you want to use your play couch for bigger builds like forts and dens, as a spare bed, or for older kids, you'll notice the size difference!