Top 6 Indoor Play Ideas for Lockdown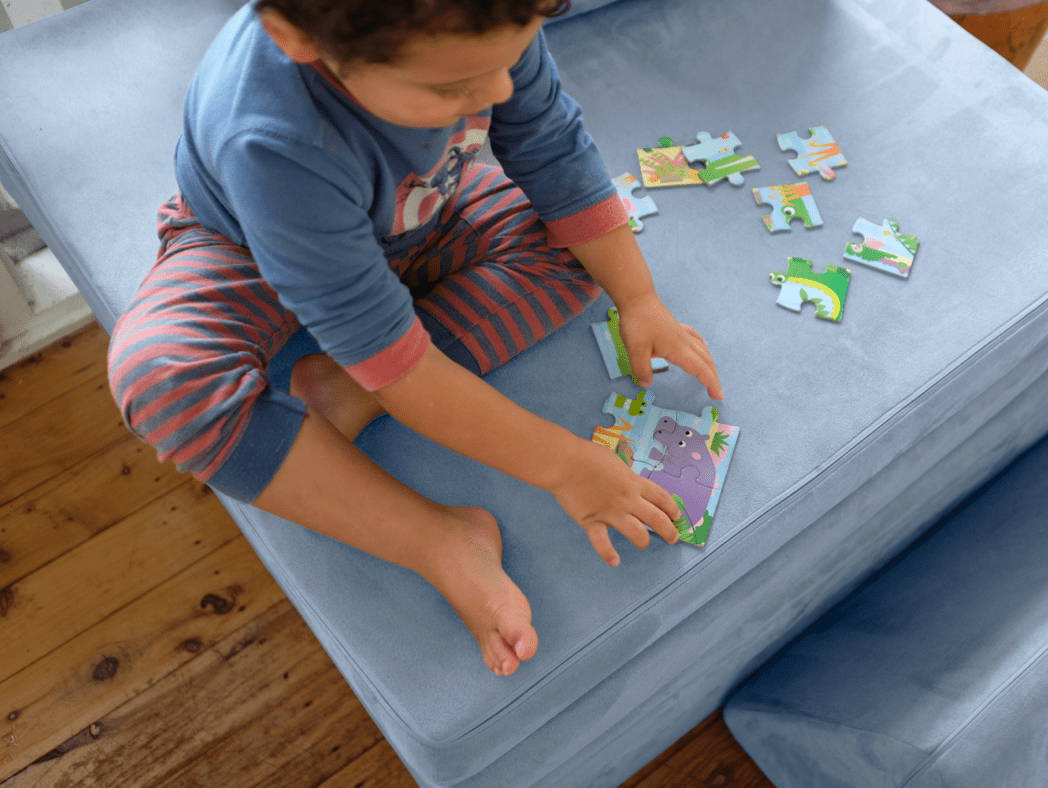 As the lockdown restrictions are re-introduced and then extended, parents (like you) have a tricky dilemma to face: how to keep the kids busy indoors. Added onto this the coldest Winter in 40 years, for many families, outdoor play is limited so it's time to focus our attention on indoor activities that will keep little hands and wild imaginations occupied.
The good news? There's stacks of ways to turn your living room into a destination for creative, open-ended play to keep the kids entertained (no matter how old they are). All it takes is some imagination and a handy list of the play activities to tackle indoors this lockdown.
Ready? Let's dive in.
6 indoor activity ideas for kids
Looking for some indoor activity inspiration? Here is our pick of the top activities to keep your kids busy and entertained indoors.
1. Host an indoor treasure hunt
Peel the kids off the couch and pop the iPads away with a fun-filled indoor treasure hunt. All it takes is a few minutes for you to browse the house for the perfect hiding spots, write out a list of clues and set your kids to work.
This is a great energy-burning indoor activity that will keep the kids occupied for hours (depending on how hard to make your hunt). Plus, you can even break the family off into teams to add in a dash of friendly competition.
2. Create an at-home cinema
While your kids are used to streaming films or their favourite shows, this lockdown activity idea is all about recreating the magic of the cinema experience whilst we wait for theaters to re open.
That means setting the mood in the living room with a cosy, modular couch, plenty of blankets and even putting some popcorn in the microwave. Bring the whole family together (and keep phones out of the room) to share some quality indoor time.
3. Bring out the board games
Pulling out the board games is another perfect indoor activity for kids of all ages. Bring everyone together into the living room, choose a game and let the competition begin.
What makes board games such a winner is their ability to spark little imaginations. From problem solving to communication skills, these games encourage kids to overcome obstacles and think strategically to take out the top prize.  


4. Take centre stage with a talent show
Last, but not least, is one of our personal favourites: hosting a family talent show. This indoor activity is all about fostering creative, open-ended play between the whole family.
Give each family member an hour or so to prepare for their performance and dig through the cupboards to find props, costumes and accessories to bring their ideas to life.


5. Setup an indoor campsite
Bring the great outdoors indoors, and get all of the benefits of a camping trip without a mosquito or sore back in site. Pull out the sleeping bags, setup a tent, and spend the night having a campout. Use a basket and some paper to create a "fire" and gather the family around for campside scary stories or a singalong. The kids will get a serious kick from sleeping out of their beds, and while most of this is make-believe, we seriously encourage real marshmallows on sticks!


6.

Inspire imaginative play with the Possum Play Couch
We're a little biased, but we couldn't leave our own Possum off this ultimate indoor activities list. And here's why.
The Possum is the perfect indoor energy-burner that's ready for rough and tumble play. With durable, stain-resistant covers (they can even be removed and thrown in the washing machine, too), The Possum is perfect to occupy indoor adventurers on those lockdown days 
Need some building inspiration? From bush campsites to gold medal ski jumps, here are a few ideas to get your kids building, And remember, their imagination is the limit!
So, there you have it. Keeping the kids entertained indoors is all about finding ways to encourage imaginative, open-ended play. With the right toys ready to go, you can easily turn your living room into an energy-burning indoor playground for kids of all ages.
Offering opportunities for unstructured, make-believe play helps foster emotional, social and physical development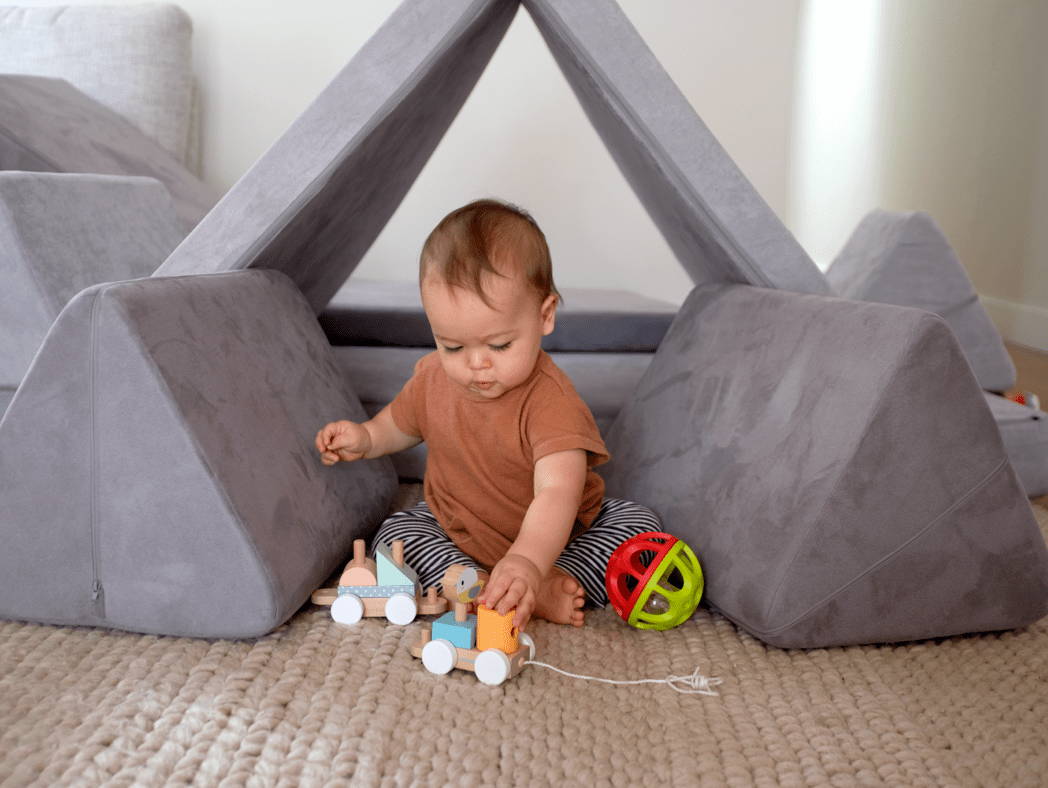 Why The Possum is the perfect lockdown boredom buster for kids
We know that kids have endless energy to burn, which is why we built the Possum Play Couch to be the ultimate indoor adventure.
What makes The Possum different from regular kids toys is the way it fosters imaginative, open-ended play. It's modular design transforms into whatever creations your kids dream up, from race cars to forts to cosy reading nooks.
There's no rule book or instruction manual to follow. Instead, The Possum encourages unstructured, make-believe play that helps to foster creativity, aid the development of gross motor skills and even boost problem solving for little minds.
The thing we love most about The Possum's modular design? The options are only limited to your kid's imagination.

3 reasons why The Possum is the lockdown lifesaver
1. The Possum encourages endless screen-free play
Struggling to pull your little ones away from the iPad or TV when the weekdays roll into the weekend, mornings into the night and every day is spent in the same space? The Possum offers infinite configurations, endless playtime possibilities and gets kids moving indoors. Every build can be different, every space can be new.
With 6 soft yet durable modular cushions to play with, The Possum gives your kids a creative outlet to burn energy and spark new ideas (all without leaving the room).
2. The Possum inspires teamwork
Foster collaboration between your kids during those indoor afternoons with The Possum.
Whether they bring their favourite storybook characters to life or tackle building the castle of their dreams together, The Possum boosts language and social skills for kids of all ages.


3. The Possum is perfect for all ages
Think The Possum is just for little ones? Think again. We've designed this modular play couch to grow with your family, with plush cushions that will stand the test of time (and transform into the perfect lounge couch for reading or watching films for older kids). Toddlers might use to to learn to stand and walk and primary school aged kids use it to read on, relax on and we're even seeing it being used for home schooling this week.
Join our newsletter for early access to product drops, imaginative play inspiration, and other exciting updates.