Why Imaginative Play Is So Important For Your Kids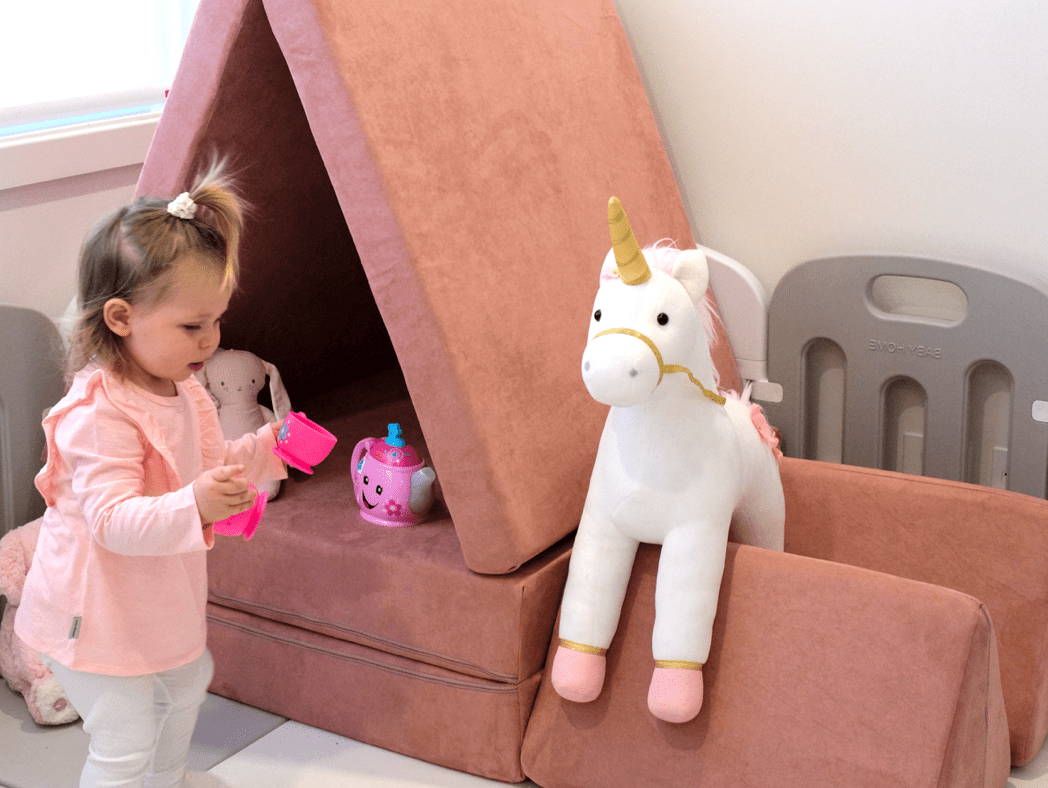 Photo: Unicorn Tea-Party Anyone?
Kids have the biggest imaginations. An unused cardboard box can become a race car, spaceship or even a jungle raft. And giving kids the space and tools to dream up new ideas has big benefits for their growth and development, too.
From fostering crucial motor skills to learning how to communicate with others, imaginative play is the secret ingredient to happy, healthy kids. It's also a stack of fun for kids of all ages as well.
So, let's dive into the benefits of imaginative play for your little ones and show you how to use The Possum Play Couch to bring infinite, imaginative ideas to life.
The importance of imaginative play for kids of all ages
Playing dress ups and setting up forts isn't just a recipe for hours of entertainment for the kids. Offering opportunities for unstructured, make-believe play helps foster emotional, social and physical development, too.
Here are just some of the reasons to encourage imaginative play with your kids:
Fosters creativity:

dreaming up new ideas and transforming ordinary objects into spaces for play, adventure and fun is key to building budding creative minds. For example, acting out

imaginary scenes builds storytelling skills

and enhances creative thinking among little minds.




 

Aids physical development:

learning how to jump, grasp, and handle new objects through imaginative plays helps to build hand-eye coordination and refine a range of important gross motor skills. Plus, research shows unstructured play

builds strength, muscle control and coordination

for growing kids.
Develops language and social skills

: impersonating their favourite movie characters and acting out imaginary scenes helps kids master new words, communicate appropriately and share their big ideas with other kids.




Boosts problem solving skills:

from finding the right materials for their castle to creating the perfect princess costume, kids develop essential problem-solving skills through imaginative play (that they'll go on to use for the rest of their lives).




Teaches positive behaviour:

learning how to read social cues and developing a sense of empathy for others helps little ones to express themselves and learn how to compromise and negotiate with their friends, too.
Clearly, imaginative play has a stack of big benefits for kids and sets them up with crucial skills they'll continue to use and develop as they grow.
Offering opportunities for unstructured, make-believe play helps foster emotional, social and physical development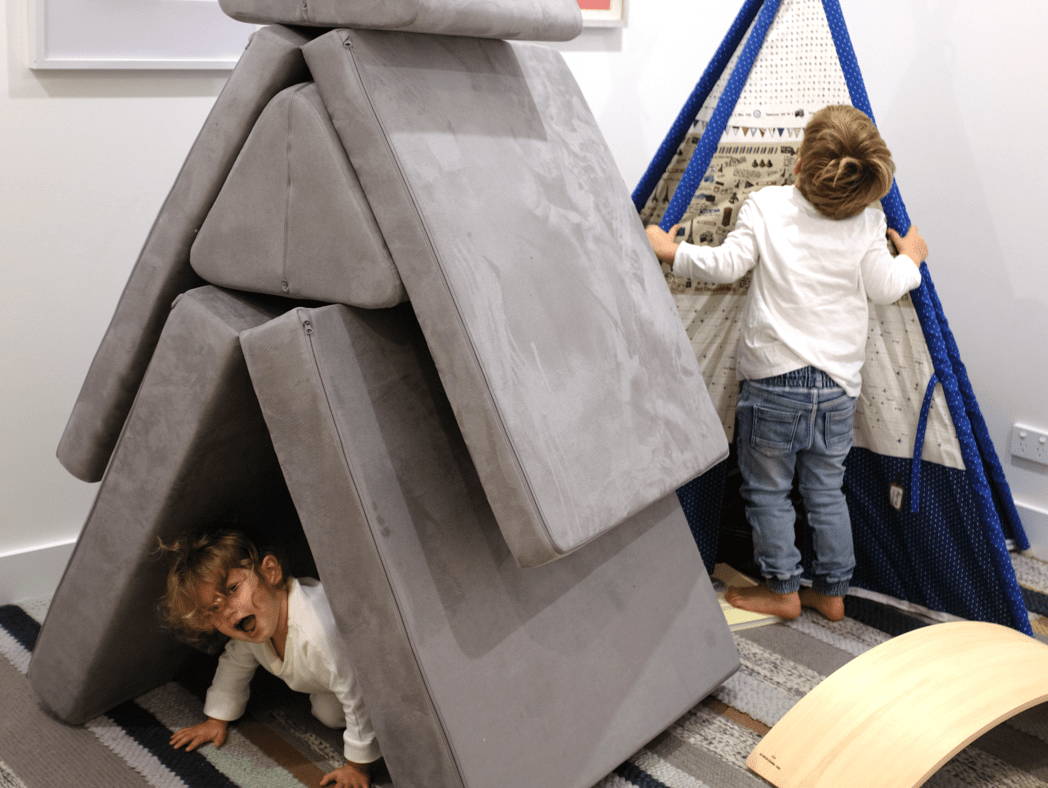 Photo: All aboard the rocket ship, we're about to take off!
How to spark moments of imaginative play
At every age, there are different ways to create and inspire imaginative play for kids. So, let's look at the different stages of play and how to get the most out of unstructured play along the way.


Imaginative play for babies
In the first months after birth, play is a powerful way to foster developmental growth. It can start as simply as responding to baby's smiles with positive reinforcement and showing them bright, interesting objects that they can touch and experience for the first time. The familar game of peek-a-boo helps foster imagination for your little ones as they start to imagine and anticipate what's hiding doing behind your hands.

Even placing your bub in different positions on a soft yet supportive couch allows them to see and experience the world from different angles and gets them familiar with new sensations.As your baby gets more mobile and starts to crawl and move about, you can configure cushions, blankets and other objects into obstacle courses that they can problem solve how to navigate around. They love imagining who or what might be hiding just around the corner or just out of view, so make sure to place toys and favourite objects behind cushions and just out of reach.
Imaginative play for toddlers
With more motor skills under their belt, toddlers can begin to explore the world around them through unstructured play.
Give your kids access to toys that are 'open-ended', meaning that they can be played with in multiple and varied says, depending on your child's input , and help them to engage in make-believe play (whether that's simply pretending to drink out of an empty cup or baking an imaginary cake for their pop-up cake stall). Building blocks, magnetic tiles, or a play couch, are great examples of open ended toys that provide the perfect canvas to spur on little imaginations.
Regularly reading together in a cosy reading nook will also help your little ones discover stories and characters to inspire their imaginative play.


Imaginative play for young children
Making time for imaginative play is key at this stage as well as engaging with your kids and asking them questions about stories, plays or books you've read together.
Encourage your kids to sing, dance and dress up as their favourite characters to act out imaginary scenes or roles. Plus, get their friends involved and give them the chance to dream up new scenarios together.

To help encourage this kind of play, give them a safe environment to learn new skills and movements such as building, reaching and rolling indoors on a durable supportive surface. This kind of play is also a fantastic way to tire out kids with seemingly endless energy!
The thing we love most about The Possum's modular design? The options are only limited to your kid's imagination.

How The Possum Play Couch inspires open-ended imaginative play
As kids, we always wished we had the tools to build the forts, castles and racing cars of our dreams. So, we created The Possum Play Couch to offer endless possibilities and configurations for hours of imaginative play.
Instead of destroying the family couch or tearing into the linen cupboard, The Possum's modular kids play couch gives little minds the materials to bring their make-believe scenarios to life.
Each Possum Play Couch comes with six light-weight yet durable pieces (each with a machine washable cover) that can be lifted overhead and placed into whatever designs your kids dream up. And instead of spending hours in front of the screen, your kids will get lost in their wild ideas and imaginative adventures.
Need some inspiration? Here are just a few of our favourite Possum builds to spark imaginative play:


Create a cosy Aladdin's Cave

Build a bulldozer

Recreate the Eiffel Tower

Tear it up in a Formula 1 Racing Car

Set up a farmer's market stall

Design a hidden fort or reading nook
The thing we love most about The Possum's modular design? The options are only limited to your kid's imagination. And as they grow up, The Possum grows with them to become a comfortable movie night seat or spot to lounge while flicking through their favourite read.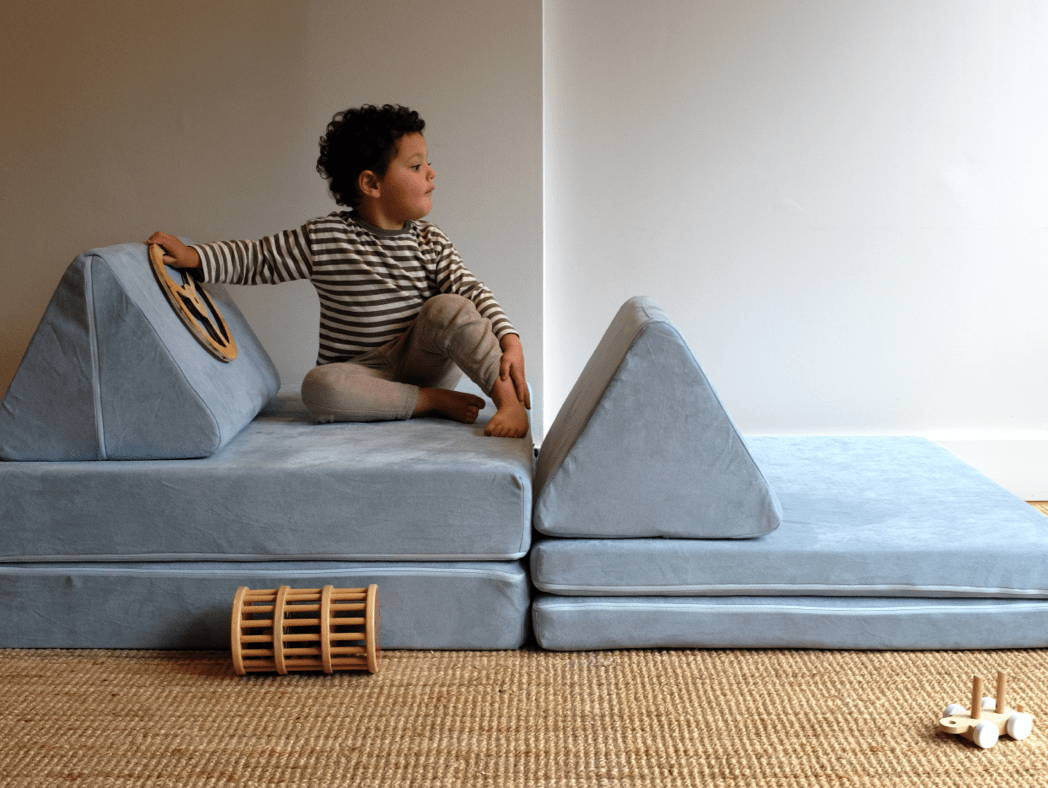 Photo: Ready to cruise through the city streets in my blue convertible
How we designed The Possum to bring out the best in play
Speaking of endless options, we poured our heart and soul into creating the colour palette of our dreams when designing The Possum Play Couch. With seven family and kid-friendly colours to choose from, we wanted to ensure each modern shade would shine in living rooms across Australia.
In fact, we worked with our customers to tweak and test each colour to find the ultimate shades to inspire imaginative play.
From our deep, dark Forest green to our warm, nutty Peanut shade, each colour is handpicked to provide the perfect canvas for endless everyday play.
When it comes to giving your kids the best start in life, imaginative play needs to be at the top of your agenda. And if you're searching for the most versatile toy since the cardboard box, The Possum Play Couch is your answer. Whether your Possum transforms into a car, shopfront or rocket ship, The Possum gives your kids infinite hours of open-ended, brain-expanding, indoor energy-burning fun.
Join our newsletter for early access to product drops, imaginative play inspiration, and other exciting updates.