The story behind The Possum, the ultimate kids play couch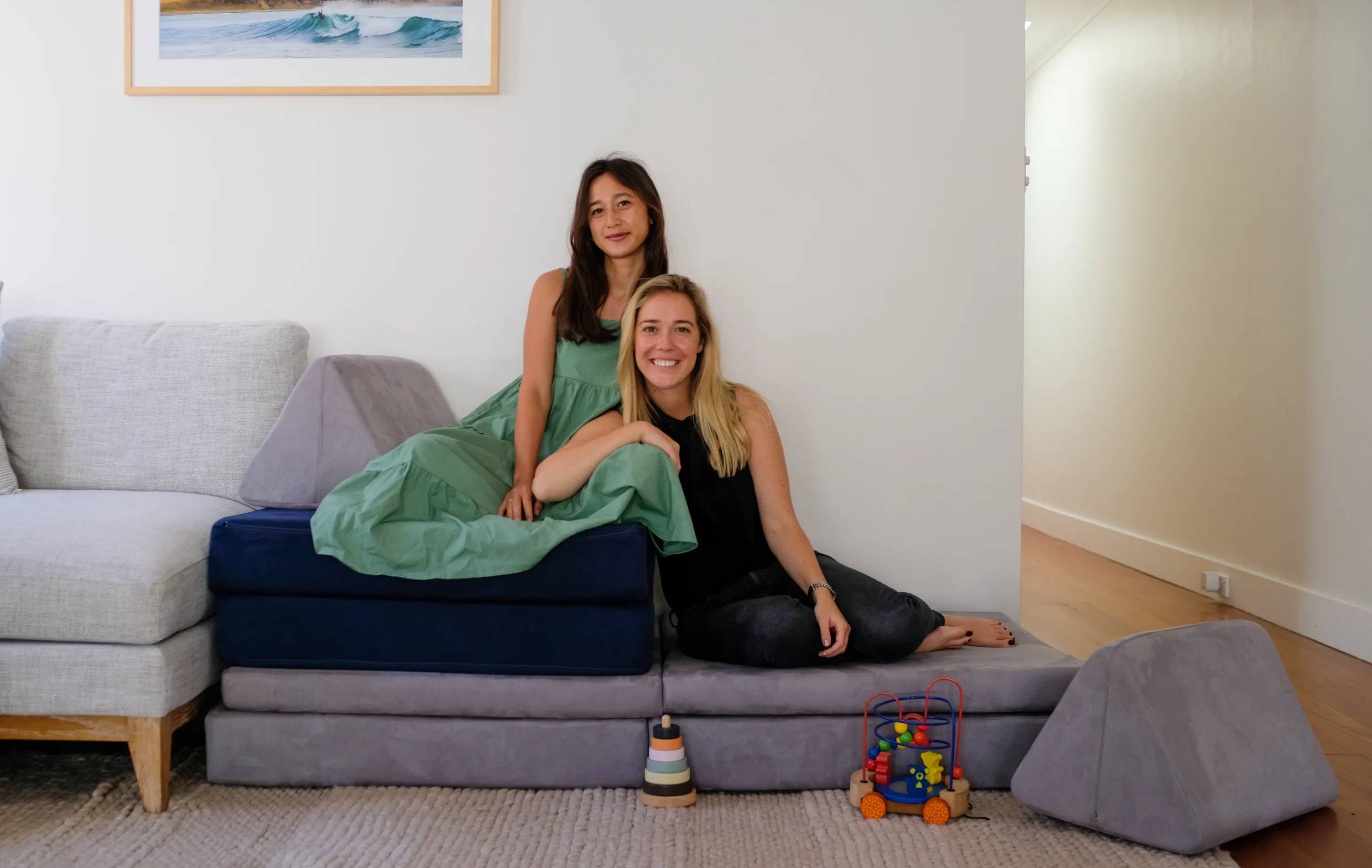 Renee & Giorgia - Possum Play Couch Co-Creators + Best Friends
It's fair to say all of us remember building makeshift forts and tunnels as kids. You know the drill: you'd rally your siblings to the living room and deconstruct the couch, maybe throwing on a sheet or two for good measure.
This moment of magic is what sparked the idea for The Possum, Australia's ultimate play couch. Designed with adventure and big imagination in mind, we're on a mission to bring joy into homes across Australia (and the world) with a couch made for everyday play.
So, let's take you back to where it all began and why we decided to build a kids' furniture business in the middle of a pandemic (yes, really).
So, why did we create kids furniture purpose-built for fun?
We have a confession to make: we grew up destroying our childhood couches. And if we're all being honest, we bet you did too, right?
Rewind the clock just over three decades and you'll find us (co-founders Renee and Giorgia) frantically constructing indoor forts, caves and tents out of anything we could get our hands on. And that definitely included stripping our mattresses of linen and dragging pillows from our parent's bed.
We might have grown up (and now have kids of our own), but our imaginations remain just as bright. In fact, we've been searching for a way to give our kids those same magical moments filled with creativity and adventure in our own homes. Oh, and finding a way to burn our kids' never-ending energy levels with indoor play has been top of the agenda.
You don't need us to remind you how challenging 2020 was for parents (like you). With lockdowns and restrictions keeping us working, living and playing from the same space, giving the kids places for imaginative indoor play has never been more important. Bonus points if we could keep the actual couch untouched, too.
Watching our own kids develop their gross motor skills (without the chance to run and play as normal outdoors) caused a realisation: we wanted to create something our own families could use inside for everyday play.
We were desperate to give our kids a comfortable space to roll, kneel, jump and crawl indoors to build these crucial developmental skills. And we knew we wanted to make kids furniture that was flexible and adaptable enough to give little minds a place to let their ideas run wild.
So, we dreamt up the couch of our childhood dreams - The Possum.
"We have a confession to make: we grew up destroying our childhood couches"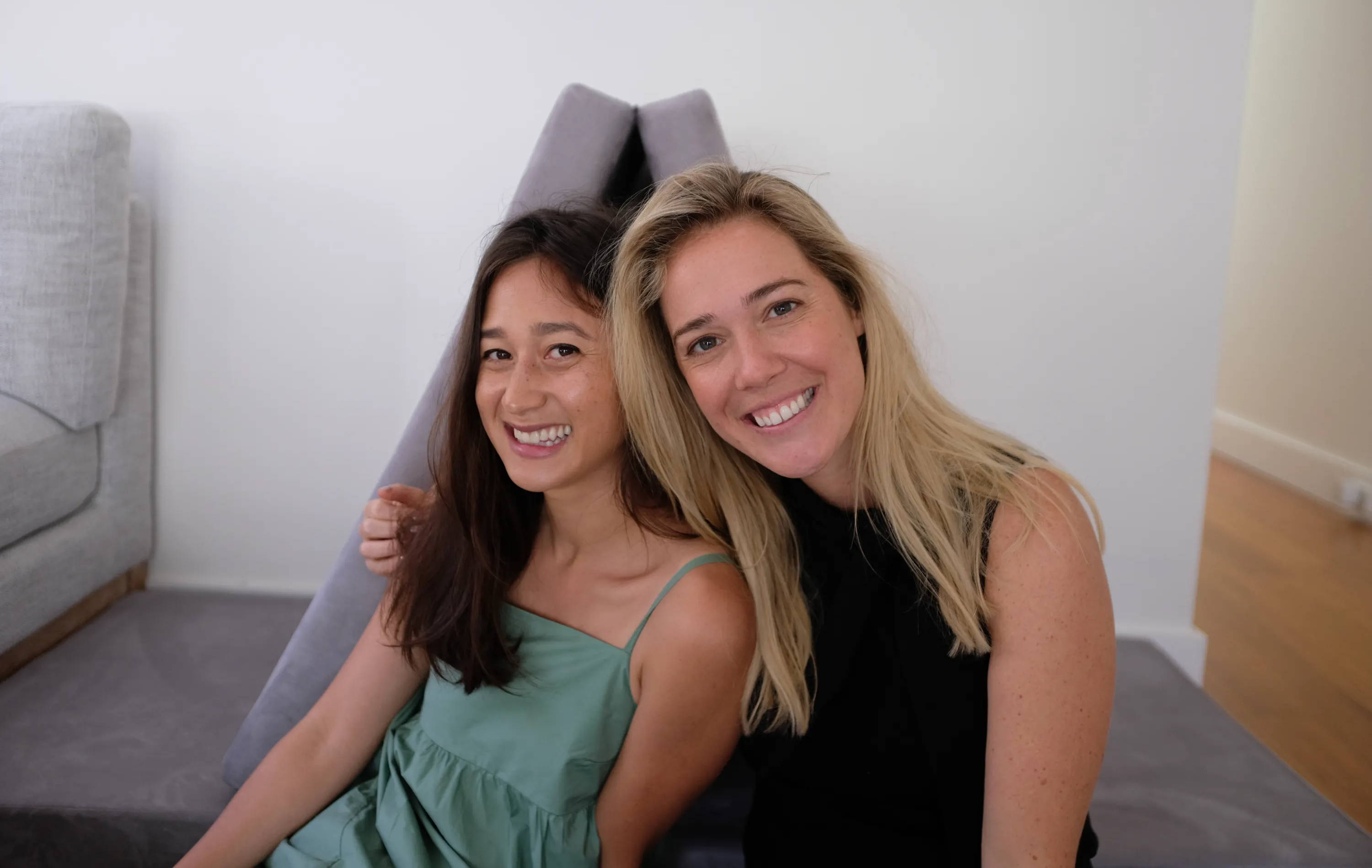 Renee & Giorgia - Possum Play couch Co-Creators + Best Friends
Why you (and your kids) will love The Possum Play Couch
Here's the thing about The Possum: it's the kind of kids play couch that doesn't come with a rule book. Instead, the possibilities are only limited to your kids' imaginations.
We're talking about a modular design that offers infinite configurations, while still looking good enough to live in your lounge room year round. And with stacks of colours to choose from, you and your kids can choose the perfect design to make their big ideas come to life.
And here's a few more reasons why The Possum is the only kids play couch your family will ever need:


Built for endless play: we designed The Possum Play Couch to last the test of time and grow up with your kids. That means you won't need to upgrade it over the years (and you can ditch the need for endless age-specific toys that will end up cluttering bedrooms and living room floors for years to come).
Made for wild ideas: want to construct a rocket ship? How about a jungle raft or even a cosy reading nook? Anything is possible with The Possum. Your little ones bring the big ideas, and we'll give them the tools to make it happen.
Designed for joyful moments: we want every kid to bring play into their everyday. From slides to tunnels, The Possum is there to bring families and friends together to spark joy and inspire adventure in homes across Australia (and beyond).  
Why you (and your kids) will love the Possum Play Couch
It's about time we gave a proper introduction, right? We're Renee and Giorgia, co-founders of Possum Play and best friends with a shared history of couch destruction (guilty).
As adults, we've spent our time together launching business all over the globe and have both landed back in Oz to start our families (and build Possum Play from the ground up).
Being a new mum, Renee was on the hunt for a way to inspire imaginative play for her son, Finn. And naturally, godmother and aunt Giorgia was searching for the perfect kids gift, too.
Soon enough, we discovered there were plenty of modular kids furniture and cosy play couches available overseas. But for Aussie families, we couldn't find a solution. So, we decided to build it ourselves.
We can't wait to have your family along for the ride and hope your kids enjoy The Possum, the couch of our childhood dreams, as much as we enjoyed building it.
Sign up to our newsletter to be the first to hear about product drops, for imaginative play inspiration and other exciting updates.